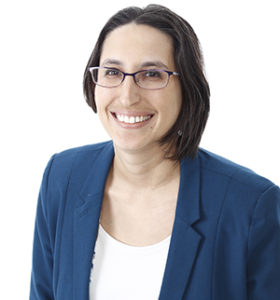 Dr. Simon-Dack's research focuses on neural communication, interhemiphseric transfer (IHT), sensory binding, and mechanisms of neural inhibition.
Dr. Simon-Dack will NOT be accepting students for this upcoming 2023-2024 academic year.
---
Dr. Diaz is a developmental psychologist with a background in infant and child behavioral and physiological development. Through the use of various methodologies (e.g., EEG, ECG, Actigraphy, observations, and questionnaires), her research program focuses on the relation between emotional and cognitive processes and their role in social and academic competence. She is also interested in exploring how environmental (i.e., parenting, culture) and internal (i.e., resilience, motivations) factors may help better understand individual differences.
Dr. Diaz will be accepting students for this upcoming 2023-2024 academic year. If you are interested in working with Dr. Diaz, please feel free to email her. adiaz6@bsu.edu
Learn more about Dr. Diaz's past work here: https://people.bsu.edu/adiaz6/
---

Dr. Perrone-McGovern is member of the PACE lab and is the director of the Counseling Psychology Neuroscience (CYPSY Neuro) lab. Her research focuses on integration of neuroscience methods and clinical applications. She employs Event Related Potential (ERP), psychophysiological, behavioral, and survey methods to examine attachment-related constructs, emotion, and interpersonal relationship dynamics
Learn more here: https://sites.bsu.edu/neuroscience/
---

Dr. Holtgraves' primary research program investigates the social psychological factors involved in the production and comprehension of language. Current research is focused primarily on the social, cognitive and neural processes underlying instances of miscommunication.
Learn more here: https://people.bsu.edu/holtgraveslab/
---

Dr. Tagler conducts basic and applied social psychological research. Specific interests include Attitudes, Sleep Habits, and the Theory of Planned Behavior.