Our Team
Principal Investigator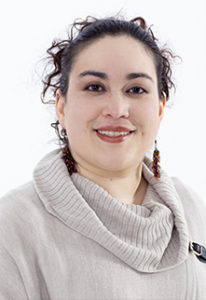 Dr. Diaz is an assistant professor of Psychological Science. She is a developmental psychologist with a background in infant and child behavioral and physiological development. Through the use of various methodologies (e.g. EEG, ECG, Actigraphy, observations, and questionnaires), her research program focuses on the role of temperament (individual difference in emotion regulation and emotion reactivity) and executive functioning in developing social competence and academic achievement throughout development. She is also interested in exploring how parenting and culture might influence these associations.
---
Graduate Research Assistants
Lab Manager: Elli Cole

Elli is a second-year student in the Clinical Master's program. She is the lab manager of the Developmental PACE Lab where physiological measures such as EEG and actigraphy are used to examine emotion regulation, sleep, and their effects on cognition, academic performance, and psychological-well-being. Elli is currently working on her thesis which examines individuals with adverse childhood experiences' who develop anxiety and the role of emotion and frontal EEG asymmetry in this relationship. She intends to pursue a career in academia and hopes to add to research on risk, resiliency, and the etiology of internalizing disorders. In her free time she likes to hike, binge-watch crime dramas, as well as bake (and then eat) new desserts.
Graduate Assistant: Chloe Woodling

Chloe Woodling is a first-year graduate student in the Clinical Psychology Master's program. Shecurrently serves as a graduate research assistant in Dr. Anjolii Diaz's Developmental PACE Lab and Dr. Katie Lawson's Work, Family, and Gender Lab. Chloe's personal research interests broadly include chronic illness, work-family conflict, emotion regulation in children, sleep & memory, and atypical gender roles. Chloe's goal is to obtain a PhD in either Clinical or Social Psychology. Ideally, she would like to become a professor where she can both teach and conduct research. When Chloe is not participating in research, she enjoys spending time with her puppy, going for bike rides, and drinking coffee!
---
Undergraduate Research Assistants
Alex Doerner

Alex is a junior at Ball State, majoring in psychology and minoring in biology and Spanish. Her current research interests pertain to neuropsychology, specifically the neurobiological processes underlying sleep and their relation to behavior, emotion, and cognition. After receiving her bachelors from Ball State, she plans to pursue neuropsychology at the graduate level. Other than being a research assistant in the PACE lab, Alex is also a teaching assistant under Dr. Leuke for Introduction to Neuroscience and Drugs, Alcohol, and the Brain. In her spare time, Alex likes to buy more house plants than she has space for and watch Scrubs on a never-ending loop.
Alex Epperly

Alex Epperly is a senior majoring in psychological science with minors in interpersonal relations and entrepreneurial management. Her research interests primarily include brain-behavior interactions in domains such as temperament, emotion, cognition, and perception in non-clinical populations, but also has interests in researching the effectiveness of various therapeutic techniques in clinical populations. She hopes to investigate questions in these areas and their overlap in her graduate studies and ultimately in a career as a neuropsychologist or college professor. In her free time, Alex likes to paint, make crafts, go hiking, learn about other cultures and lifestyles, and spend quality time with her friends and family. She also enjoys complex problem solving, mostly in the form of puzzles, riddles, and mystery-based video games.
Emma Dahlinghaus

Emma is a junior pursuing a degree in Psychological Science with minors in Interpersonal Relations and the Psychology of Human Development. Her research interests include the impact of emotion regulation and temperament on academic achievement. Emma intends to pursue a career in psychology as a School Psychologist. Outside of school Emma enjoys collecting various types of succulents and houseplants.